Real-time events
The real-time events are a core part of ERP.net. As the name suggests, these are events that are triggered in real time.
As an end-user experience, the real-time events may seem as "live notifications" (and in a matter of fact they are), but ERP.net makes a distinction between these terms.
Note
A notification is a "first-class citizen"- i.e. it's an entity (aggregate root). It lives in the database. Communities.Notifications Entity

On the other hand a real-time event is a non-persistent data unit and it's used for on-the-fly signaling of user-relevant events.
Each real-time event consists of a header, specifying its type, as well as a payload- the event data itself.
As a comparison to the notification definition above:
Note
A real-time event's payload MAY OR MAY NOT hold a notification. See below for more information on all types of real-time events.
A real-time event in a nutshell
Some of the key aspects:
They're produced real time and don't depend on the client application.
They're addressed to the concerned user (i.e. the recipient), regardless of whether it uses ERP.net Windows Client or Web Client.
The real-time events are "broadcasted" to the target user no matter how many instances of the Windows Client or Web Client are opened.
They're only created (and sent) when there's someone to receive them. I.e. the target user is online.
The real-time events themselves aren't persistent data. They aren't stored in the database.
Use-case(s)
Obviously, they have one purpose- to notify you of something that concerns you.
Now
For example, if someone reacts to your comment:

Or someone comments on a object you're following (e.g. a specific document like an offer, sales order, etc):

What about if there's a planned maintenance?

Or several events at once: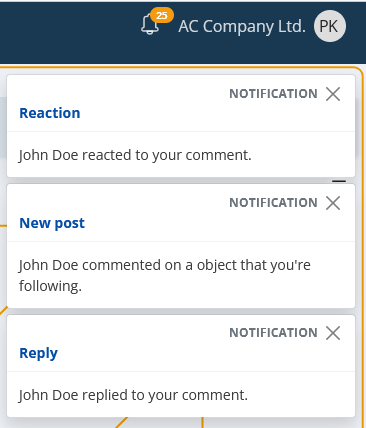 Variety of types
The payload (i.e. the data), provided by the real-time events can be of the following different types:
Code
Description
CM_REMINDER
Reminder (a.k.a alarm), related to an activity.
MAIL
Incoming mail message.
VOIP
Voice over IP. Incoming call.
SHUTDOWN
Warning of an upcoming shutdown event.
SYS_MSG
System message.
PERF
Performance measurement. This is often a system measurement for the duration of an operation.
NOT
Social interaction as a notification.
For more information, check the separate notifications documentation topic.
WRN
System message.